Annual Meeting 2021
Annual Meeting 2021
Thursday, February 18, 2021 (3:00 PM - 5:00 PM) (CST)
Description
The Annual Banquet is the Business Partnership's premier event, with over 500 yearly attendees gathering together to celebrate the past year's accomplishments and look forward to the year ahead. This year we will meet and celebrate online, via the Remo virtual conference platform.
This platform allows attendees to interact with each other in small groups of their own choosing, in a virtual ballroom set up very similar to the in-person event. Just like in previous years, you will be able to meet and catch up with fellow members you haven't seen in a while. But this time, there will be no long lines at the parking lot or the bar, no need to fight through clusters of people standing just inside the doorway, and not a chicken breast in sight!
We are very excited to have Amy Kristof-Brown, Dean of the Tippie College of Business at the University of Iowa, as our keynote speaker. Dean Kristof-Brown will join Kim Casko and 2021 Board Chair Nick Westergaard in a program that reflects on the challenges and teachings of the past year, and looks forward to the goals and hopes of the year to come.
The 2021 event comes on the heels of a tough year, especially for restaurants and small businesses. In light of that, we've created two ticket types.
The

Very Important Partner

ticket gets you a $15 gift card, an extra $5 towards a drink or dessert, and includes a contribution to our

Pay It Forward member support fund

. All gift cards will be purchased directly from the member businesses of your choosing, giving you

a way for your ticket to directly help some of these businesses, for even less than you normally pay to attend.

You can also choose to donate some or all of the gift card and/or the funds to the Pay It Forward Fund or a member nonprofit organization!

T

he

Regular

ticket includes access to the networking hour and the program.
Registration closes Thursday, February 11. Register before February 5 to ensure you receive your attendee packet before the event!
This event is open to all members of the Johnson County business community, whether or not they are a member of the Business Partnership. We have decided not to increase the cost of non-member tickets this year, to provide an opportunity for everyone to connect over what we learned together.
---
Thank you to our Lead Sponsor P&G for continuing to support us through this programming change, and to supporting sponsors ImOn Communications and Neumann Monson Architects for making the event possible!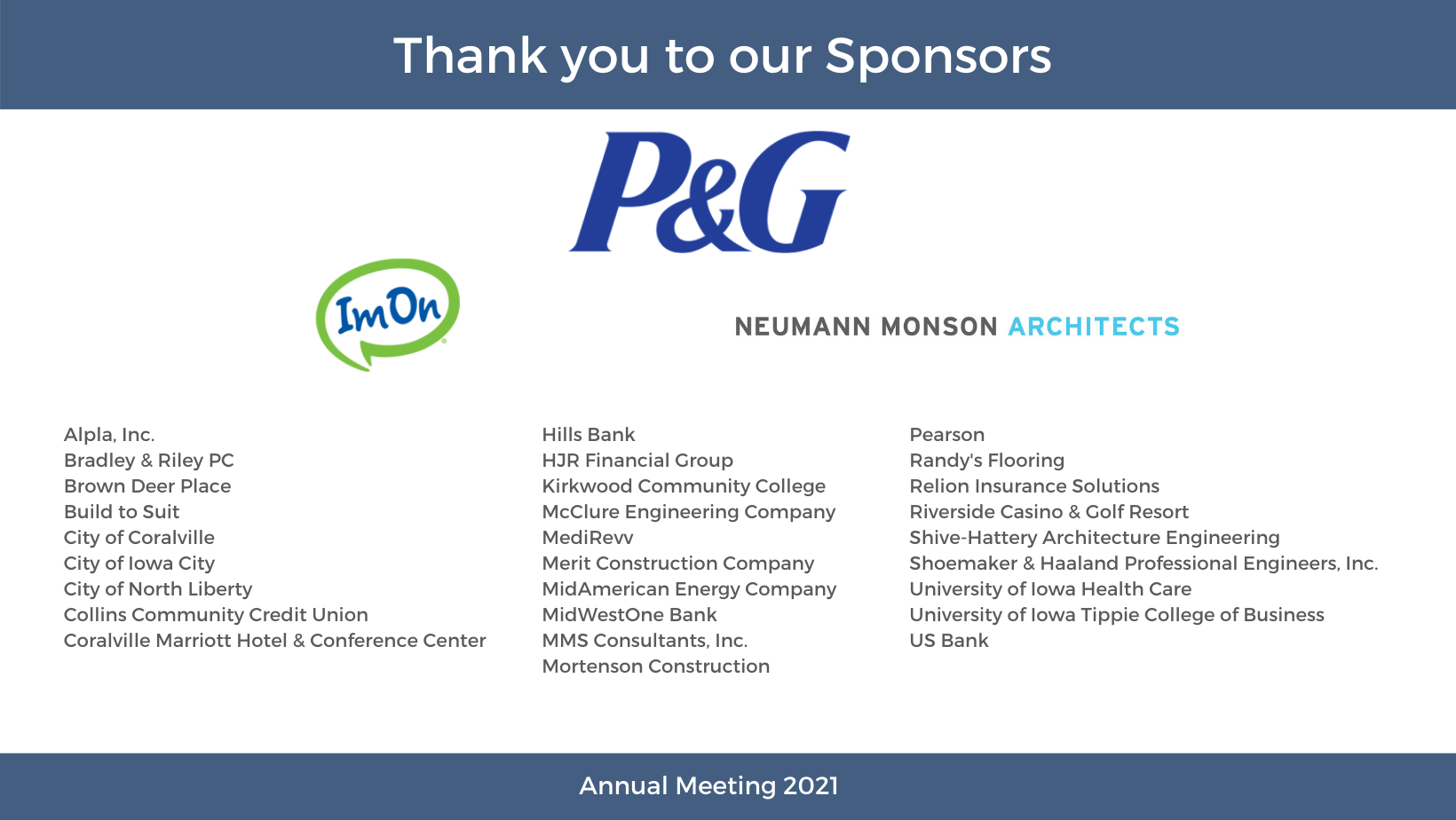 Sponsors
Lead Sponsor
Procter & Gamble Mfg Co Beauty Care
Images
Pricing
Very Important Partner ticket: $55
Regular ticket: $20
This event is open to all members of the Johnson County business community, whether or not they are a member of the Business Partnership. Please note, we are unable to provide refunds for this event.
Remo Virtual Conference

Thursday, February 18, 2021 (3:00 PM - 5:00 PM) (CST)
Networking "Cocktail" Hour: 3:00 - 4:00 PM
Program: 4:00 PM
Categories
Title Event
Networking
Connections
The Iowa City Area Business Partnership coordinates over 150 events each year, between ribbon cuttings, educational seminars, and connections events. There's bound to be something for you!
HAVE QUESTIONS ABOUT OUR EVENTS?
Call our Events & Sponsorships Manager, Emily Wenzel, who coordinates the generous businesses who support us and plans our calendar of events.