Description
April 28 at 8:30 am
Free to Attend | Advance Registration Required
Zoom Meeting link will be included in your registration confirmation
Hear directly from your congressional delegation in a series of conversations. We'll focus on the Business Partnership's policy goals for a healthy, inclusive, and accelerated recovery from the COVID-19 pandemic, and insights into the legislative agenda for the first 100 days of the 117th Congress and Biden Administration. Members will have the opportunity to advocate and promote policy priorities that are important to them. This event is free to our members.
---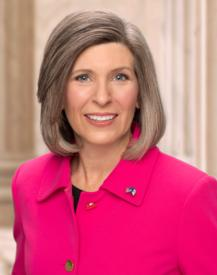 Senator Joni Ernst
Senator Joni Ernst, native of Red Oak, Iowa, has dedicated her life to her state and country, having served in the military for over 23 years and now in the United States Senate.
In November 2014, Joni was elected as the first woman to serve in federal elected office from the State of Iowa and also became the first female combat veteran elected to serve in the United States Senate. In Washington, Joni serves on five Senate committees of major importance to Iowans: Armed Services; Agriculture, Nutrition and Forestry; Environment and Public Works; Judiciary; and Small Business and Entrepreneurship.
Joni received her undergraduate degree from Iowa State University where she joined the university's ROTC program. After graduating, Joni joined the U.S. Army Reserves. In 2003, Joni served as a company commander in Kuwait and Iraq, leading 150 Iowa Army National Guardsmen during Operation Iraqi Freedom. Joni retired as a Lieutenant Colonel in the Iowa Army National Guard after 23 years of military service.