Ribbon Cutting-South District Market & Store Local Iowa City
Ribbon Cutting-South District Market & Store Local Iowa City
Tuesday, March 28, 2023 (4:30 PM - 5:30 PM) (CDT)
Description
Join us for a Ribbon Cutting celebration for the "Grand Opening" of the South District Market and the StoreLocal Iowa City Storage facility!
South District Market will bring a new & exciting concept to the Iowa City community. There will be 5 restaurant/retail spaces available for lease in a newly renovated food court / market type setting. This will be in the former Slumberland Furniture location in Pepperwood Plaza.
Join us for tours of the space, food, beverages, and connections! Let's show some community love by attending the ribbon cutting and helping them celebrate on March 28th at 4:30pm. Please register!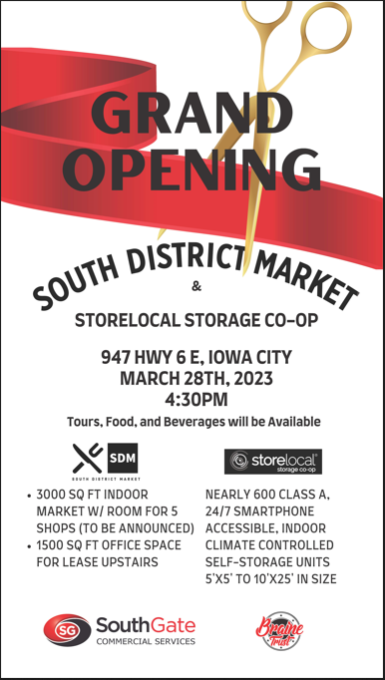 Sponsors
Sponsor
City of Coralville
Mediacom Business
South District Market
947 Hwy 6 East, Iowa City

,

Tuesday, March 28, 2023 (4:30 PM - 5:30 PM) (CDT)
Categories
Ribbon Cutting
The Iowa City Area Business Partnership coordinates over 150 events each year, between ribbon cuttings, educational seminars, and connections events. There's bound to be something for you!
HAVE QUESTIONS ABOUT OUR EVENTS?
Contact us at info@iowacityarea.com.